Summer Library Program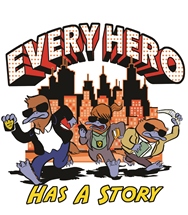 Join us this summer as we explore the Summer Library Program theme of Every Hero Has a Story!   Unmask the adventures of reading by attending special programs and activities featuring reading, super heroes, music, animals, dance, art, crafts, prizes and more.
The 2015 Summer Reading Program is for preschoolers through young adults. To be eligible for special prizes, youth are encouraged to participate by keeping track of independent reading minutes or family read-aloud time (at home, on vacation, traveling or while at the library). Additional incentives will be available each week for just visiting us at the library. Adults may participate in the adult reading program.
Check out our Summer Library Program calendar flyer for more information.  Can't to see you at the library this summer!
Saturday Programs
PaperCrafts & Scrapbooking
First Saturday of the month at the library
10:00 a.m.
Lego Day
Second Saturday at the library
10:00 a.m.
Family Movies
Third Saturday at the library
10:00 a.m.
Craft Days
Fourth Saturday at the library
10:00 a.m.

Family Fun Days
Fifth Saturday at the library
10:00 a.m.
Here at the Kilbourn Public Library we are committed to creating a fun learning environment for children of all ages.  We have thousands of books for every reading level, from board books for toddlers to novels for young adults.  Our collection also includes audio books, music CDs, and videos.  No matter what your interest or reading level, we're bound to have something for you! Our goal is to build the foundation for a lifetime of reading and learning, and we look forward to playing a part in the education of our community's young people.