Pizza & Pages
Every third Thursday students in grades 6 through 12 are invited to stop in at the library at 5:30 p.m, for Third Thursday Special Events featuring: movies, special activities and more.
And of course... PIZZA
May
Third Thursday Special Event
Thursday, May 21 @ 5:30 p.m.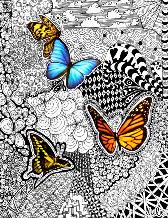 This month we will be having a Zentangle night. We will create Magazine Zentangle pictures! Come and experiment with this relaxing and fun method of drawing.
We will also have time to eat pizza, talk about new books, share fun stories, eat pizza, plan future teen events and eat pizza!
This event is sponsored by the Friends of the Kilbourn Public Library.
Teens and Tweens Only!