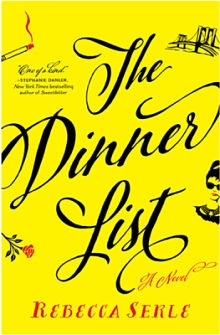 Due to our recent closure, we were unable to hold our book discussion for September's book, The Dinner List. But don't worry, we will be discussing The Dinner List in October! Take this extra time to think about who you would put on your personal dinner list and why. Then join us at the end of the month for thought provoking discussion.
At one point or another, we've all been asked to name five people, living or dead, with whom we'd like to have dinner. Why do we choose the people we do? And what if that dinner was actually to happen? These are the questions Rebecca Serle contends with in her utterly captivating novel The Dinner List. This novel has delightful magical realism and life-changing romance. When Sabrina arrives at her 30th birthday dinner she finds at the table not just her best friend, but also three significant people from her past, and well, Audrey Hepburn. As the appetizers are served, wine poured, and dinner table conversation begins, it becomes clear that there's a reason these six people have been gathered together. Delicious, but never indulgent, sweet with just the right amount of bitter, The Dinner List is a romance for our times.
We will discuss this novel twice this month, Monday, October 26 at 5:30 pm and Wednesday, October 28 at 1:30 pm. Due to COVID19 the discussion will be held virtually rather than in person. You do not need to use a computer for this virtual book discussion. A smartphone or tablet will also work. The event will take place on Zoom. Please click here to register for this free online event.  We will use your email address to send you the link to participate. You will receive the link a day before the book discussion. If you can't join us for our online discussion please post your comments to our online book club blog at kplbookclub.blogspot.com.